Air Duct and Carpet Cleaning Services in Macomb Township, MI
Comprehensive Residential and Commercial Cleaning Services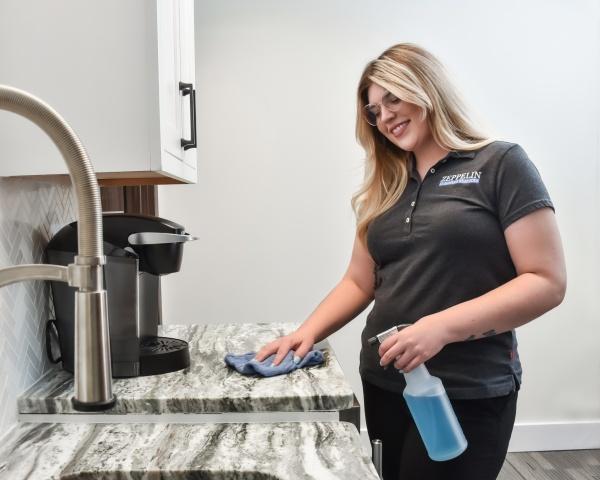 Zeppelin Cleaning Services is proud to offer comprehensive cleaning to customers throughout the Macomb Township area. With our help, you will no longer have to worry about the tedious tasks associated with cleaning your home or commercial building. Instead, you can leave all of the cleaning to us!
We offer a range of services to meet the unique needs of each residential or commercial customer. We offer kitchen cleaning, bathroom cleaning, waste removal, carpet cleaning, and much more. We can also provide deep cleaning services as requested, going the extra mile for superior results. Contact us today to get started.
Janitorial Services for Macomb Township Buildings
When you are operating a large building in Macomb Township, investing in janitorial services is highly recommended. At Zeppelin Cleaning Services, we are a team of experienced professionals who provide comprehensive, tailored janitorial services to clients throughout Macomb Township.
Our team offers everything from basic restroom cleaning to the removal of hospital waste. Whether you need basic cleaning services on an occasional basis or you want to hire us to clean your building every day, we have the resources to get the job done. We clean all types of buildings in Macomb Township, including industrial buildings, educational facilities, medical facilities, and office buildings.
Ductwork Cleanings for Improved Indoor Air Quality
Dirty air ducts can cause a variety of problems in both residential and commercial buildings. The buildup of dirt, dust, allergens, and microbes can cause occupants with asthma or allergies to experience worsened symptoms. This buildup can also lead to problems with your HVAC system's efficiency, leading to more wear and tear and even higher energy bills.
Zeppelin Cleaning Services offers both residential and commercial ductwork cleaning to clients in Macomb Township. A thorough ductwork cleaning improves the flow of air through your HVAC system, improving system efficiency. Removal of debris from the system also improves air quality and limits your exposure to microbes and other contaminants.
Macomb Township Carpet Cleaning Services
Even with daily vacuuming and careful stain removal, carpets can still become dull and dirty over time, especially in high-traffic areas. Fortunately, the professionals at Zeppelin Cleaning Services have the equipment and skills necessary to clean your carpets as thoroughly as possible, restoring their beauty and improving the overall appearance of your home or commercial space. In addition, we can treat your carpets so they will be less likely to become worn or stained in the future.
Zeppelin Cleaning Services is proud to provide comprehensive cleaning to clients throughout the Macomb Township area. If you are interested in learning more about the services we provide, or if you would like to schedule a service, please contact us today.