Air Duct Cleaning Services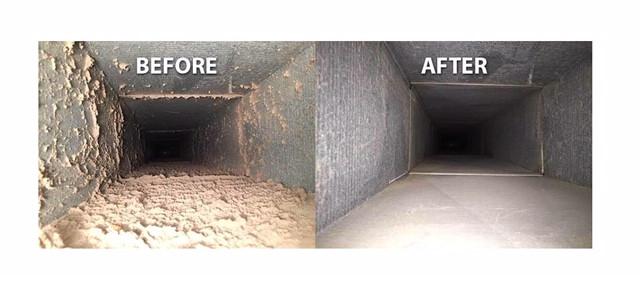 Benefits of Air Duct Cleaning
Reduction of irritants. When your air ducts are dirty, irritants are often present in the air that flows through your home or office space. Examples of irritants that may be present include pet dander, pollen, and dust. Air duct cleanings remove these irritants, which can improve your indoor air quality. 
Better air flow. Having a buildup of dust, debris, and grime in your air ducts can create obstacles that make it difficult for air to flow through freely. Removing all of this material can improve air-flow efficiency, which reduces energy expenses. 
Protection of your HVAC equipment. Regular air duct cleanings ensure that your HVAC equipment isn't forced to work any harder than it needs to in order to provide a comfortable environment. This keeps the unit running at peak performance and helps prevent premature wear and tear. 
Removal of smells. In some cases, dirty air ducts can cause your home or office space to smell musty or unpleasant. Cleaning your air ducts can remove the source of these unpleasant smells, thus improving your enjoyment of the space. 
A cleaner home or office. When dust and other debris build up within your air ducts, it can be passed into your home or office, where it will collect on surfaces and floors. Cleaning your air ducts reduces the amount of dust and debris that enters your home or office in this manner, keeping the entire space cleaner. 
Air Duct Cleaning Experts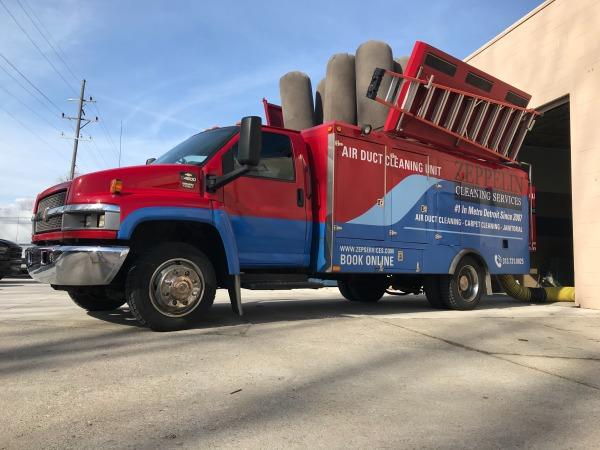 When you think about cleaning your home or office, air ducts are probably one of the last things that come to mind. However, keeping your air ducts clean has a significant impact on the comfort level and safety in your space. When air ducts are not clean, you may not only notice an increase in your energy bills but also be at risk of dealing with illness or allergy symptoms.
Fortunately, you can eliminate all of the problems associated with dirty air ducts by hiring the professional air duct cleaners at Zeppelin Cleaning Services to handle this task for you. We are proud to provide this service for both residential and commercial clients throughout Warren, Sterling Heights, Clinton Township and beyond. Contact us today to schedule service.
Dryer Vent Cleaning
Most dryers have a lint trap designed to collect any lint that comes off clothes during the drying process. Unfortunately, this trap cannot collect every bit of lint released. Any lint that isn't trapped can make its way to the dryer vent, leading to air obstructions and other problems. If the lint trap isn't cleaned regularly, the dryer vent will become clogged even more quickly. When the dryer vent is full of lint or other debris, the air cannot flow properly. Not only will this lead to higher utility bills, but it may also pose a risk of fire. Our company offers dryer vent cleaning services for both residential and commercial clients. 
Air Duct Cleaning & Dryer Vent Cleaning FAQs
Why is cleaning air ducts necessary?
Indoor air quality issues affect approximately 25 million people in the United States. Just like your shelves, baseboards, and floors, your air ducts get dirty and contaminated. Cleaning air ducts and vents improve your indoor air quality while increasing the efficiency and lifespan of your HVAC equipment. Contaminated air ducts are a leading cause of issues with allergies and asthma. Visit the "Our Work" page to see several photos of before and after duct cleaning.
Why is cleaning dryer vents necessary?
Dryer vents clogged with lint are a leading cause of house fires in the state of Michigan. FEMA and the US Fire Administration recommend cleaning your dryer vent ductwork every year.
How long does it take to clean air ducts?
The amount of time it takes to clean your ducts depends on factors such as the size of your home, the number of furnaces, number of vents, and accessibility to supply and return systems. On average it takes 2.5-3 hours but it can take less or more time. We always take our time to ensure the best results.
What kind of equipment do you use?
Using the best technology and most powerful equipment is equally as important as knowledge and expertise for excellent results. Many companies use substandard and inferior equipment that is unable to effectively clean air ducts. Cleaning air ducts requires very powerful and expensive vacuum equipment. Zeppelin uses large custom-made vacuum trucks from CaddyVac, the leading producer of air duct cleaning equipment in the country. To learn more about their equipment, visit caddyvac.com.
How long does it take to clean my dryer vent?
Every home is a little different, but on average, dryer vent cleaning takes 30-60 minutes.
How are air duct cleaning and dryer vent cleaning priced?
We pride ourselves on transparent and flat-rate pricing. All prices are listed on our online reservation system. BEWARE of companies offering prices too good to be true. Proper air duct cleaning and dryer vent cleaning require expensive equipment and sophisticated knowledge. Too often, we have witnessed very poor results in homes from a "low-cost" provider.
How often should I clean my air ducts and dryer vents?
We recommend cleaning your air ducts every 3 years and cleaning your dryer vent annually, sometimes more often if you have pets, a recent construction project, asthma, or allergies.
Contact Us Today for a Ductwork Cleaning
Ductwork cleanings are an important component of good HVAC maintenance that provides you with a number of benefits. For this reason, we recommend getting your air ducts cleaned on a regular basis.
Are you in need of a ductwork cleaning at your home or business? If so, Zeppelin Cleaning Services would love to help. Please contact us today to schedule an appointment or to learn more about our air duct cleaning services.