Office Cleaning Services in St Clair Shores, MI
Benefits of Hiring Our Team
One less task. With our team handling your office building's cleaning needs, you won't have to worry about taking care of these issues yourself. Instead, our team will do all the work behind the scenes, leaving you with a clean, comfortable workspace.
Professional cleaning. It is possible to clean your office building on your own or even assign these tasks to an employee you already have on staff. However, there is no substitute for professional cleaning services. Our company is staffed by trained, experienced cleaning professionals who will meet or exceed your expectations.
CDC compliance. When you trust Zeppelin Cleaning Services to keep your office building clean, we can sanitize and disinfect up to CDC standards as needed. We stay up to date on these standards so we can tailor our services accordingly.
Fully bonded and insured. Zeppelin Cleaning Services is fully bonded and insured. We have liability insurance, worker's compensation insurance, and a janitorial bond. When you hire our team to clean your office building, you can be sure that you are fully protected in the event of any accidents or damage.
No disruptions. We understand that your office building is a space that must be productive during business hours. We will work closely with you to design a cleaning schedule that does not interfere with the operations of any office space or business.
Affordability. We aim to offer our janitorial services at an affordable price, making our company a cost-effective choice for your facility. We are happy to provide a customized quote based on the specifics of your janitorial needs.
Customization. Our company offers a wide range of services that can be customized to meet your needs. We can clean bathrooms, kitchens, workspaces, and more. We also provide daily carpet care, waste removal, and much more.
Professional Cleaning Services for Offices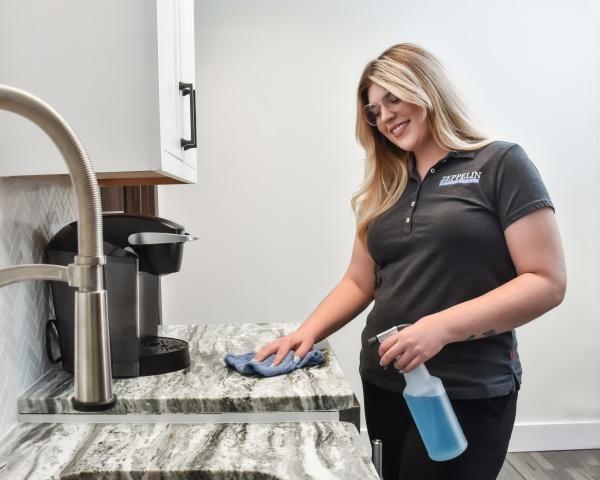 Running an office or operating an office building can be an overwhelming task on its own. From scheduling employees to making sure the office supplies are fully stocked at all times, you have many concerns on a daily basis. With a professional janitorial service, you will have one less thing to worry about.
Zeppelin Cleaning Services will keep your building clean and organized according to your specifications, ensuring that you have a safe and productive working environment for your employees at all times.
Services We Provide
Daily carpet care
Hard-surface floor cleaning & maintenance
Reception area/lobby cleaning
Kitchen/restroom cleaning/restocking
Dusting & window washing
Office system cleaning
Waste removal
Sanitization programs
Daytime cleaning
Contact Us for Office Building Cleaning Services
Whether you own a small office building or an expansive complex serving multiple businesses, our company can handle your janitorial needs. We offer customized services tailored to meet the specifications of every client we serve. Please contact Zeppelin Cleaning Services to schedule an appointment today!