Medical Facility Cleaning Services in St Clair Shores, MI
Benefits of Hiring Our Team
Bonded and insured service. Our company has liability insurance, worker's compensation coverage, and a janitorial bond. We maintain these protections in order to provide peace of mind to our clients and can provide evidence of our insurance and bond upon request.
Fewer worries. Our team will handle the overwhelming task of cleaning your hospital or medical office building. With our team in charge of your janitorial needs, you will have one less concern. This allows you to focus your time and energy on other tasks related to the operation of your medical facility.
CDC compliance. At Zeppelin Cleaning Services, we follow CDC standards to the letter to ensure that you are always fully compliant. We also keep up with any changes to these standards and adjust our protocols as needed.
Affordable prices. We structure our prices based on the specifics of your janitorial needs, always aiming to provide high-quality cleaning at an affordable price that fits within your facility's budget. After we have learned about the specifics of your needs, we will provide you with a customized quote.
Customization. We offer a wide variety of cleaning services, from carpet care to waste removal. We can also clean a variety of spaces, including exam rooms, bathrooms, cafeterias, and much more. We will customize the services we provide based on your specifications.
Professional cleaning. Our team is trained to provide excellent cleaning and sanitation services designed specifically for the medical industry. We provide a level of service that is difficult to duplicate without the proper training and experience.
No disruptions. Zeppelin Cleaning Services understands the importance of the services your medical facility provides, and we do not want to cause any disruptions. We will structure our cleaning schedule in a way that allows your facility to continue its normal operations without distractions or inconveniences.
Professional Cleaning for Hospitals & Medical Offices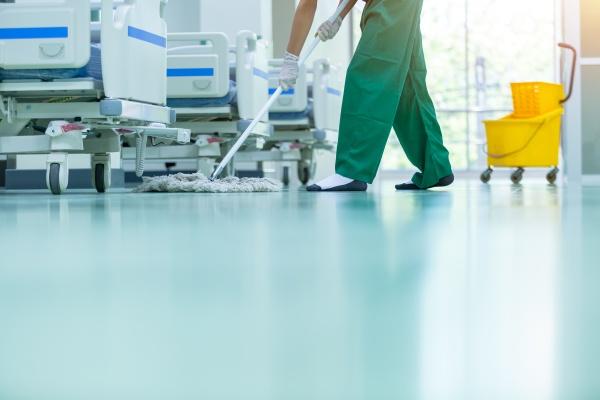 Both hospitals and medical offices have unique, high-level cleaning needs that require specialized knowledge and training. In order to comply with relevant standards, as well as to keep your staff and patients safe, you need to trust your janitorial needs to the right company. Zeppelin Cleaning Services is proud to provide comprehensive cleaning services to clients in the medical field, from the largest hospitals to small community medical offices.
Services We Provide
Daily carpet care
Hard-surface floor cleaning & maintenance
Reception area/lobby cleaning
Kitchen/restroom cleaning/restocking
Dusting & window washing
Office system cleaning
Waste removal
Sanitization programs
Daytime cleaning
Contact Us Today for Medical Facility Cleaning Services
If you own a medical facility, such as a hospital or clinic, you need a cleaning service you can trust to get the job done right. Our company understands the unique needs of clients in this industry, and we want to help you maintain a safe environment for medical professionals and patients alike. Contact Zeppelin Cleaning Services today to learn more about our services or to begin the process of developing a cleaning protocol for your facility.