School Cleaning Services in St Clair Shores, MI
Benefits of Hiring Our Janitorial Service for Schools
Professional, high-quality services. Although it may be cheaper or easier to hire someone in-house to clean your educational facility, it is unlikely that an in-house janitor will be able to provide the same level of service as a professional janitorial company like Zeppelin Cleaning Services.
CDC compliance. Complying with CDC standards is essential for every educational facility. Zeppelin Cleaning Services understands these guidelines, and we will make sure our services keep your facility in full compliance at all times. We also watch for any changes so we can alter our services as needed.
Insured and bonded. We understand that working with a third-party janitorial services provider can pose some risks without the proper insurance coverage. That's why we maintain worker's compensation coverage, liability insurance and a janitorial bond for your peace of mind.
Affordable services. Zeppelin Cleaning Services understands that your educational facility operates within a budget. We aim to structure our pricing in a way that provides our clients in the educational industry with high-quality services at a price they can afford.
No class disruptions. Distractions can be detrimental in an educational environment. We don't want to cause any disruptions with the services we provide, so we will work closely with you to create an appropriate cleaning schedule that doesn't interfere with your facility's operations.
One less worry. Operating an educational facility is a huge responsibility. Let us take cleaning off your mind. We can handle all your janitorial needs so you can focus your attention on your other tasks.
Professional Cleaning Services for Schools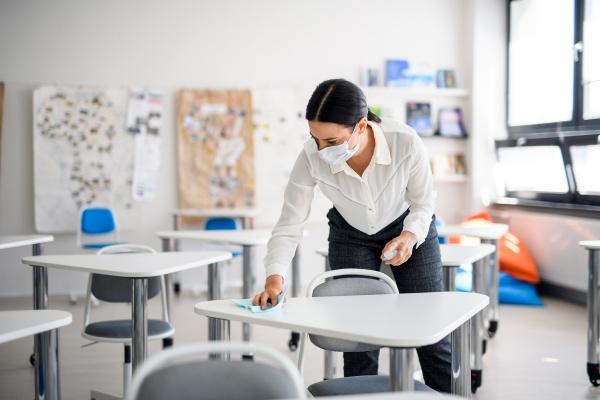 When you own an educational facility, you want the environment to be as conducive to learning as possible. One of the most important components of creating a positive educational environment is cleanliness. With a clean, organized space, students and teachers are able to perform at their best. Not only that, but a clean and sanitized space also keeps students and teachers safe and reduces the transmission of illnesses.
Zeppelin Cleaning Services understands the importance of cleanliness in an educational facility. We are proud to offer comprehensive, customized janitorial services designed specifically for clients in the educational industry. Our goal is to ensure that your facility is always clean and ready to provide the perfect environment for learning.
Services We Provide
Daily carpet care
Hard-surface floor cleaning & maintenance
Reception area/lobby cleaning
Kitchen/restroom cleaning/restocking
Dusting & window washing
Office system cleaning
Waste removal
Sanitization programs
Daytime cleaning
Contact Us Today for School Cleaning Services
If you own an educational facility you know how important it is to keep that facility clean and sanitized. Zeppelin Cleaning Services offers customizable cleaning to meet your specific needs. Whether you need basic cleaning and waste removal or more intensive cleaning services, we can handle the job with ease. Contact us today to learn more about our services.