Dryer Vent Cleaning Services in St Clair Shores, MI
The dryer vent is one of the key components of your clothes dryer. Its main purpose is to prevent fires by removing the excess heat that is generated during a drying cycle. The dryer vent also ensures proper air flow so the dryer is able to get your clothes dry.
A clogged dryer vent can reduce performance and be a possible fire risk. If you want to achieve optimum dryer performance and protect your home, hire a professional dryer vent cleaning service at least once per year.
Benefits of Dryer Vent Cleanings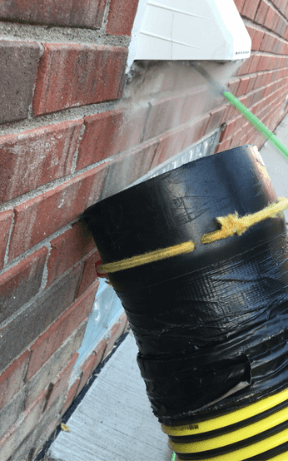 Better dryer performance. A clogged dryer vent makes it difficult for your dryer to work properly, leading to longer drying times. In the worst cases, you may even find a soggy mess in your dryer after a full cycle has run. A dryer vent cleaning ensures that your dryer performs at its peak performance by allowing better air flow.
Improved dryer efficiency. Dryers with clogged vents use more energy, as they must work harder and run for longer periods of time. Removing clogs from your dryer vent with a thorough cleaning can dramatically improve efficiency and may even lower energy bills.
Reduction of fire hazards. When your dryer vent becomes dirty or clogged, fires are more likely to occur. If a fire occurs, it is likely to cause damage and may even put lives at risk. Keeping your dryer vent clean reduces the likelihood of a fire.
Peace of mind. When you have your dryer vents cleaned on a regular basis, you don't have to worry about fire hazards. In addition, because you know your dryer is performing at its best, you also eliminate any worries about needlessly running up energy bills or being unable to get your clothes dry.
Professional Dryer Vent Cleanings
Your dryer air vent is designed to allow air to flow from the dryer to the outside of your home or commercial building.
Unfortunately, in many cases, dryer vents can become clogged with lint, dust, and other debris. A clogged dryer vent is a fire hazard, for this reason, it is important to schedule regular dryer vent cleanings to keep air flowing properly.
Zeppelin Cleaning Services offers dryer vent cleanings to both residential and commercial clients. Our clothes dryer vent cleaning services are designed to remove all grime and debris build-up in order to prevent accidents and improve the efficiency of your dryer.
Frequently Asked Questions
Why is cleaning dryer vents necessary?
Dryer vents clogged with lint are a leading cause of house fires in the state of Michigan. FEMA and the US Fire Administration recommend cleaning your dryer vent ductwork every year.
How long does it take to clean my dryer vent?
Every home is a little different, but on average, dryer vent cleaning takes 30-60 minutes.
How is dryer vent cleaning priced?
We pride ourselves on transparent and flat-rate pricing. All prices are listed on our online reservation system. BEWARE of companies offering prices too good to be true. Proper dryer vent cleaning requires expensive equipment and sophisticated knowledge. Too often, we have witnessed very poor results in homes from a "low cost" provider.
How often should I clean my air ducts and dryer vents?
We recommend cleaning your dryer vent annually — sometimes more often if you have pets, a recent construction project, asthma or allergies.
What is a dryer vent line?
The dryer vent line runs from your dryer to the outside of your home to remove excess heat generated during the dryer cycle to prevent fires.
I clean my lint trap each time, isn't that enough?
No. Every time your dryer runs, lint particles build up in the line. The best way to clean the line is to use specialized cleaning equipment and compressed air.
Do dryer vents cause house fires?
Yes. Obstructed dryer vents are the #1 cause of house fires. Prolonged drying cycles overheat the caked lint trapped in the dryer vent and can ignite within the dryer, causing a fire in your home. Approximately 16,000 dryer fires occur annually.
What are the benefits of Dryer Vent Cleaning?
There a 3 main benefits of cleaning your dryer vent exhaust line:
Reduces the risk of a house fire – Lint is extremely flammable and over time it becomes caked in the line. One spark can cause a disaster.
Reduced energy consumption – A clogged dryer vent line causes the appliance to run longer, using significantly more electricity. A cleaner dryer vent means a lower utility bill.
Your clothes will dry faster – Insufficient air flow results in longer drying time for clothes and eventually, the dryer won't work at all. Not only will your clothes dry more quickly, but your dryer won't work as hard, extending the life of your equipment.
Can I clean the dryer vent by myself?
Cleaning a dryer vent line properly requires specialized equipment, knowledge and industrial strength air compression equipment. We do not recommend the DIYers try this at home.
Can dryer vent cleaning be booked as a stand-alone service?
Yes. Dryer vent cleaning can be booked as a standalone service. However, when booked with air duct cleaning, we offer a significant discount.
How often should I clean my dryer vents?
FEMA (Federal Emergency Management Agency) & NFPA (National Fire Protection Agency) both recommend dryer vent cleaning at least, once per year.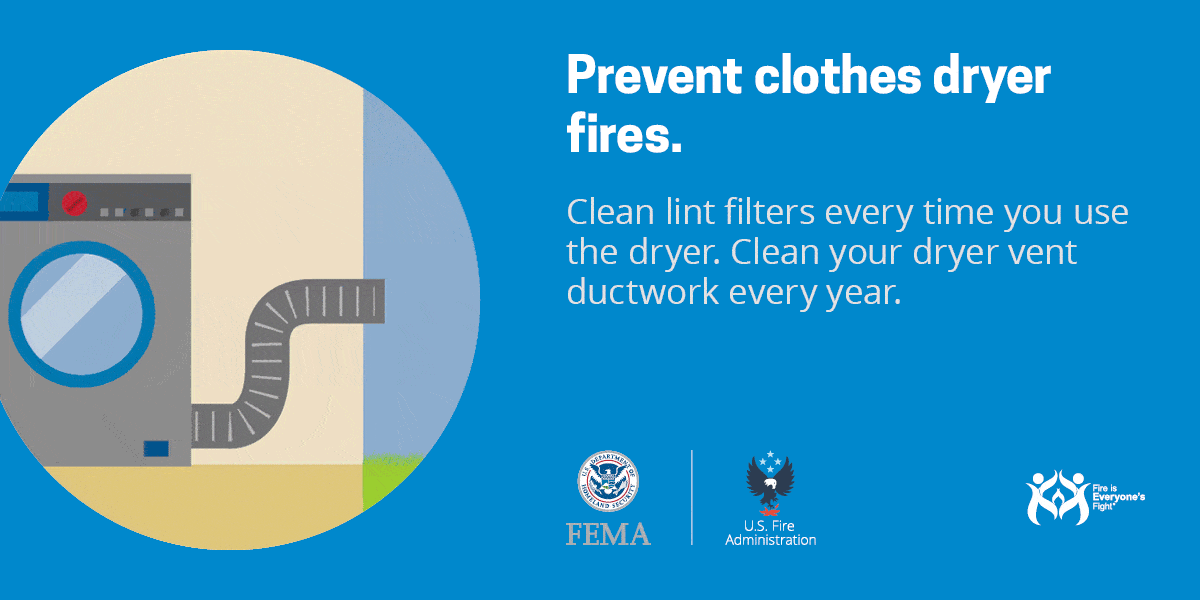 Contact Us Today
If you are interested in learning more about these services, or if you would like to schedule an appointment to have a dryer vent cleaned, please contact our office today. We look forward to hearing from you soon!