Janitorial Services in St Clair Shores, MI
To ensure your house and business premises are clean, someone has to take responsibility. Let our janitorial team at Zeppelin Cleaning Services handle it for you. A professional janitorial service is an essential service that can provide the best cleaning in industrial facilities and other places. Whether schools, hospitals, or companies, we are committed to providing professional janitorial service.
Cleaning Services We Provide
Daily carpet care
Hard-surface floor cleaning and maintenance
Reception area and lobby cleaning
Kitchen and restroom cleaning and restocking
Dusting and window washing
Office system cleaning
Waste removal
Sanitization programs
Daytime cleaning
Professional Janitorial Services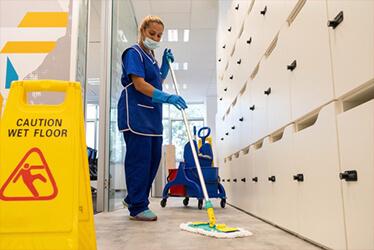 Zeppelin Cleaning Services is proud to offer professional janitorial services to clients at a competitive rate. We help clients in a variety of industries and tailor our services to meet each client's unique needs. Whether you need waste removal services for a medical facility or basic restroom cleaning services in an office building, we can handle the job!
When you are hiring a company to provide janitorial services, you want to know that you are working with trusted professionals. At Zeppelin Cleaning Services, we have a solid reputation of providing excellent results and reliable service. We are fully bonded and insured, so you won't have to worry about any losses due to accidents or damage.
As the operator of any facility, you have enough to worry about without taking on the task of cleaning your buildings. With the help of Zeppelin Cleaning Services, you will have one less item on your to-do list. We will work with you to develop the ideal cleaning schedule for your facility as well as a list of services we will provide when cleaning. Our goal is to create a cleaning plan that covers all of your needs while avoiding any disruptions in your facility's operations or daily activities. We will follow this schedule and your instructions to the letter, guaranteeing that you won't have to worry about the cleanliness of your facility anymore. Contact us today to learn more or to arrange janitorial services at your facility.
Janitorial Service – Frequently Asked Questions
Who are some of your notable clients?
We have clients of all shapes and sizes. Some as large as Ray Laethem Motor Village and many smaller law offices, insurance agencies, and other professional service industries. We are happy to supply a long list of references with contact names and phone numbers to all potential clients.
Are you insured?
Yes. We carry liability insurance, workman's compensation coverage, and a janitorial bond. Security, safety, and confidentiality are the backbone of our organization.
What cleaning frequency is available?
We will develop a custom janitorial and cleaning plan for each client. Together, we will devise a plan that fits your budget and satisfies your needs for a clean work environment.
Industries We Serve
We understand that every industry has different needs when it comes to cleaning and sanitation. For example, while educational facilities are primarily concerned with safety and basic cleanliness, medical facilities require a higher level of sanitation in order to reduce infection risks. For this reason, we tailor our services based on the industry in question. Zeppelin Cleaning Services serves clients in a variety of industries, including those with highly specialized cleaning and sanitation needs. Some of the industries we serve include:
Office Buildings
Every office building needs to be cleaned on a regular basis. Without regular cleaning, dirt and clutter can pile up quickly. Zeppelin Cleaning Services offers basic cleaning services, including daily carpet care and waste removal. We can also clean kitchens, restrooms, and other areas in your office building that require specialized attention. We clean office buildings of all sizes, whether your building is home to two offices or 200 offices.
Medical Facilities
Medical facilities have specialized janitorial needs that require a knowledgeable, experienced, cleaning team. We have experience cleaning all types of medical facilities, and we can design a customized cleaning program that meets your medical facility's specific needs. We understand that medical facilities must be cleaned according to certain specifications in order to ensure sanitary conditions for your patients. We respect these specifications, and we guarantee that our services will meet your standards.
Industrial Buildings
Industrial buildings require frequent cleaning to ensure a peaceful, productive, and safe work environment. Zeppelin Cleaning Services provides comprehensive cleaning services that can be customized based on your specific needs. We can clean and sanitize all parts of your building as needed, from the restrooms to your workspaces. We will work with you to develop a plan that works with your facility's operational schedule.
Educational Facilities
In order to provide effective educational services to students, you need a clean, safe learning environment. As your professional janitorial services provider, our goal is to ensure that your facility is always clean and conducive to learning. We can clean every part of the facility thoroughly, including the classrooms, cafeteria, bathrooms and more. We can also provide lighter services if desired, such as carpet care and basic waste removal. Whatever your needs may be, we will tailor our services accordingly.
These are just a few of the services we can provide for our clients. We adapt our janitorial services to meet the specific needs of each client. Whether you want our company to provide a single service only or comprehensive janitorial services, we can deliver the results you need.
Contact Us for Customized Janitorial Services
Zeppelin Cleaning Services is a professional company that can be trusted to provide your janitorial services in a safe and reliable manner. We proudly carry liability insurance coverage, worker's compensation insurance coverage, and a janitorial bond to provide additional peace of mind. We serve facilities of all sizes, and we guarantee confidentiality for all clients.
If you are interested in learning more about the professional janitorial services, or if you'd like to schedule services, please contact our office today to discuss your needs.