Benefits of Professional Carpet Cleaning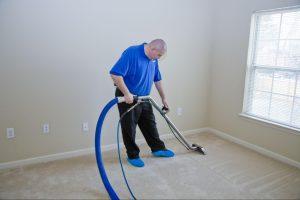 Plush, carpeted floors are undeniably comfortable and inviting, but unfortunately, both high- and low-pile carpets are excellent keepers of dirty secrets. If your home or business has any carpeted areas, chances are that carpet is dirtier than you think.
In fact, researchers estimate that most carpeted floors harbor nearly six times more germs than the average toilet seat. And aside from invisible germs, carpet also harbors plenty of conspicuous, unaesthetic stuff like dirt, grime, and staining.
If you have carpet flooring and want to keep your living or working areas sanitary and pleasing to the eye, it's imperative that you keep those carpets clean. But tackling the job on your own, especially if you don't have the right equipment, may not get your carpets as clean as they should be.
That's where working with the pros comes in. Let's take a look at the benefits you'll enjoy when you hire a professional carpet cleaning service.
Advanced Carpet Cleaning Creates a Healthier Home or Work Environment
Whether you have plush carpet or a lower-pile version, carpet fibers harbor a ridiculous amount of nasty stuff you don't want lurking in your home or building. Dust, dirt, debris, dust mites, insect feces, insect carcasses, mold, fungi, volatile organic compounds, chemical residues — these things and more have been detected in all carpeted surfaces.
Although there's little you can do to prevent germs, fungi, dirt, and other substances from settling in your carpet's fibers, you can certainly control how much of that stuff accumulates. And that's one of the most effective steps you can take to help create a healthier environment in your home or workspace.
When the pros clean your carpets, they utilize industrial-strength cleaning equipment and solutions that effectively remove all manner of health-harming substances from your floors. Cleaning products made for consumer use, on the other hand, simply can't get your carpets as clean as the equipment the pros have at their disposal.
Professional Cleaning Improves Carpet Lifespan
If your carpet has been in place for a while, chances are it's showing wear because daily foot traffic introduces considerable dirt, moisture, bacteria, and fungi into the carpet's fibers. Over time, that frequent foot traffic pushes those substances further into the carpet, compacting them and creating areas that look matted, worn, and old.
Professional carpet cleaning can help fix that. By deeply cleansing the carpet fibers, the pros extract all of that compacted dirt and debris, which allows the carpet fibers to resume their normal shape. Routine, thorough cleanings not only eliminate the gunk that's matting your carpets and making them appear worn but also allow the fibers to last longer.
Hiring the Pros Saves You Time and Frustration
Have you ever tried to clean your carpets? How did that turn out? If you're like most people who've used consumer-grade carpet cleaning equipment, your DIY cleaning adventure didn't quite produce the results you were looking for.
Unfortunately, commercially available carpet-cleaning products simply can't get carpet as clean as industrial-strength equipment. And if you want your carpets to be thoroughly clean and visually appealing when you're finished, taking the DIY route will likely end in frustration.
Not to mention, no matter what type of equipment you use, carpet cleaning requires a considerable amount of time. If you invest time into the job and don't get the results you're looking for, what's the point?
If you'd rather not spend your free time attempting to get your carpets clean only to end up with disappointing results, hire the pros. You'll get your time back and end up with far cleaner carpets too.
Thorough Cleaning Removes Persistent Carpet Odors
Over time, all the trapped gunk in your carpet's fibers can easily become odorous. And if you have pets or kids, you know your carpet can trap odors remarkably quickly too.
Ever had a wet dog roll on your rug? Or perhaps a feline that decided to mark a corner of a bedroom? Or maybe you have a child who occasionally has accidents on the living room floor? Then you know some odors are virtually impossible to get out of carpet on your own. And those odors can easily make a room smell terrible.
Luckily, no matter what kind of carpet odors you've got going on, the pros can thoroughly eliminate those foul-smelling substances for you.
Ready to Schedule Professional Carpet Cleaning Service in St. Clair Shores?
Could your carpets use a deep cleaning? Then get in touch with our team at Zeppelin Cleaning Services to schedule comprehensive carpet cleaning for your home or business! For more than 13 years, we've proudly provided a variety of professional cleaning services for hundreds of residential and commercial clients throughout the St. Clair Shores area, and we'd love to earn your business too.
To get started, feel free to give us a call today at 313-731-6459 or book an appointment online. We look forward to serving you!