Cleaning Services to Minimize COVID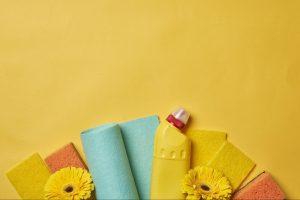 You would be hard-pressed to find someone whose life wasn't turned upside down by COVID-19. The disease impacted all of us, and we're left in a world that is changed. It can be hard to talk about, but the fact of the matter is that we all want more when it comes to preventing additional infections and the pain that can come with them.
There is no single, perfect way to prevent COVID, but there are things you can do that definitely help. As a professional cleaning service provider, we here at Zeppelin want to offer solutions that really work.
The truth is that some simple sanitization practices can make a big difference in combating the spread of many diseases, and we have some professional services that can help you, especially at your workplace.
Staying Ahead of COVID
We've all heard countless claims at this point that the pandemic is over. In some ways that's true. It feels like the world is learning to live with COVID, but that's really the point. This virus is here to stay.
Fortunately, it's manageable in ways that seemed impossible just a couple of years ago. Medical science has a pretty good idea of how the disease works and spreads, and you can take measures to stay ahead of COVID to minimize any risks and promote health in your place of work.
Services to Fight COVID-19
Staying ahead of COVID sounds great, but how do you do it? Professional cleaning services do the heavy lifting for you.
At Zeppelin Cleaning Services, we have adapted our standard janitorial practices to better combat COVID-19 and other diseases. Modern problems require modern solutions, and that's what we're bringing to the table.
All you have to do is find the service that makes the most sense for your workplace. We'll handle the rest.
School Cleaning
Everyone wants to protect schools and children, and the measures needed to minimize COVID in most schools are surprisingly attainable.
Services that focus on cleaning bathrooms, classrooms, and surfaces can reduce the spread of the disease through contact considerably. With regularly scheduled cleaning, you can ensure that surfaces receive proper sanitization, and that alone can dramatically lower the risk of spreading COVID.
Cleaner schools are healthier, and the risk of schools shutting down due to rapid spread of the disease is lessened considerably.
Medical Facility Cleaning
Medical facilities remain one of the highest-risk places you can find in terms of COVID. Since these facilities are still regularly treating COVID patients, there is no question that exposure is common.
Keeping facilities clean has always been important for limiting the spread of any disease, and we now know the best practices for sanitizing medical facilities specifically to lower the spread of COVID.
Ultraviolet tools and targeted sanitizing agents can be deployed specifically where COVID patients are treated. Any place with high traffic and any surface that is regularly touched can be mapped and routinely sanitized to prevent spread.
Our service providers are very practiced at all of this, and we can help you map and strategize sanitization to get the best possible results.
Office Cleaning
Of course, no one wants to get sick at work, and there are still countless offices and workspaces that need regular cleaning to combat COVID and other diseases.
We have a full range of janitorial services that include sanitization for offices. Again, we can look at traffic patterns and help schedule a sanitization plan that specifically targets the surfaces at the highest risk.
With routine sanitization, we'll lower the spread of COVID and other diseases through contact. This leads to a healthier, safer workplace for everyone present.
Air Duct Cleaning
The last major service we offer for combating COVID is air duct cleaning. Air duct cleaning doesn't need to be done daily, as air ducts aren't directly harboring COVID-19 particles that get people sick.
Instead, air ducts are known to harbor dust, molds, and other particles that can irritate the lungs and exacerbate lung infections. Regular air duct cleaning can reduce the impact of COVID if infections do occur. This simple service can lead to healthier air quality throughout the building, and it can help with a lot more than one possible illness. It's a worthwhile investment that does a lot to promote health in the workplace.
Contact Zeppelin Today
If you want to stay ahead of COVID-19 (or any other disease), then contact us today. We have the personnel and the expertise to help you keep your place clean and sanitary. You can stave off infections and enjoy the benefits of a healthier environment.