Cleanliness and Medical Care: Why It's Important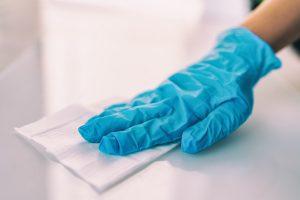 Your medical office or hospital serves hundreds, thousands, or even tens of thousands of people each year. As a healthcare facility, it's your responsibility to protect the health of the people who are putting their well-being in the hands of your staff. And aside from providing targeted and individualized medical care, keeping your facility clean and sanitized is one of the best ways to do that.
But handling the routine cleaning needs of your medical facility may not be easy or even possible, especially if you serve a high volume of patients daily. That does not mean, however, that neglecting those cleaning needs is okay. To keep your staff and patients safe, regular cleaning and disinfection of all areas that persons come into contact with is essential.
Read on to learn why cleanliness in medical care is so important and why you should hire a qualified janitorial team if you can't handle your facility's routine cleaning needs.
Clean Facilities Reduce the Risk of Infection Transmission
In a medical facility, doctors, nurses, and other staff members understand the importance of washing their hands and sanitizing treatment areas after making contact with patients. But in many facilities, other areas of the building — such as reception areas and bathrooms — don't receive as much attention.
Patients also use these areas, and when patients are sick, they can easily leave behind bacteria and germs that can be transmitted to other patients or staff members. Without routine cleaning and sanitization of every area that patients make contact with, infections can easily be transmitted from patient to patient.
No patient should leave your medical facility sicker than when they entered it, and to help ensure that doesn't happen, routine (preferably daily) cleaning is essential.
Clean Facilities Keep Staff Members Safe
Your doctors, nurses, therapists, medical assistants, and other staff members are the heart of your facility's operations. And these staff members come into contact with ill and/or injured patients daily. They also come into contact with patients who have no idea they're sick and who can easily transmit infection-causing viruses and bacteria without knowing it.
As the owner or manager of a medical facility, it's your responsibility to keep those staff members safe. Otherwise, they can't perform their highly skilled duties, and operations suffer.
Keeping your medical facility clean can help protect your staff members from getting sick. And healthy employees are not only able to continue their revenue-generating activities but are also able to continue serving patients to the best of their ability. Your staff benefits, your patients benefit, and at the end of the day, your business benefits too.
A Clean Medical Facility Makes a Positive Impression
When patients enter your facility, they're paying attention — not only to the attentiveness of your staff but also to the state of the waiting room. And when patients enter a treatment room, they're also paying attention to its cleanliness. Even the state of your facility's bathrooms can leave an impression on your patients, and since patients provide your revenue, you must make a good impression.
That's where regular cleaning comes in. No patient wants to use your restroom only to find it dirty and lacking necessary toilet paper, soap, and other implements. No patient wants to sit in a waiting room where dust has settled on end tables, photos, magazines, and foliage. No patient wants to see a treatment room where trash cans are nearly overflowing and workstations aren't clean and organized.
A properly cleaned and sanitized facility ultimately leaves a positive impression on the patients who visit your building, which encourages them to return.
Hiring Medical Facility Cleaning Services
If you run a busy clinic or hospital, chances are you and your staff don't have the capacity to clean working areas, reception areas, and bathrooms on a daily basis. And quite honestly, janitorial work probably isn't part of your staff's job description. That's where a professional janitorial service — ideally one that specializes in medical facility cleaning — comes in.
When you hire a professional medical facility cleaning service, you'll get to customize your cleaning and sanitization services to your facility's needs. If you serve a high volume of patients daily, you can schedule evening cleaning and sanitization services that won't interfere with facility operations.
If you're a lower-volume facility, you can schedule less frequent service that suits your needs. The pros also follow CDC medical cleaning guidelines, so you can rest assured your facility will be properly cleaned and sanitized according to the highest standards.
Request a Quote for Medical Facility Cleaning Services in St. Clair Shores
Do you need janitorial services for your medical office or hospital? Then don't hesitate to get in touch with our team at Zeppelin Cleaning Services! We specialize in full-service medical facility cleaning and have proudly served clients throughout St. Clair Shores and the surrounding areas for more than a decade. Depending on your needs, we can perform daily cleaning or lower-frequency cleaning and sanitization of your facility to ensure you always meet the highest standards of cleanliness.
To learn more about our services or get a janitorial quote, feel free to call us today at 313-731-6459 or request a quote online, and we'll reach out with additional information.