How Air Quality Affects Health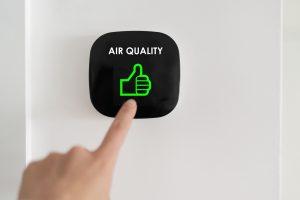 Air quality has a huge impact on our health both outside and inside.
Air quality is affected by pollution, dust, smoke, chemicals, and even naturally occurring sources like pollen and pet dander. Depending on the weather, temperature, and other things like population density and emissions control, air quality can shift drastically from day to day or when people travel to a different place.
Air quality directly impacts the air we breathe into our lungs and, as such, has a direct impact on our bodies and our health. The healthier and cleaner the air around us, the healthier and cleaner the air entering our bodies is. With dirty and unclean air, the potential for huge health and quality-of-life implications rises.
Point being, air quality affects health. There is a range of problems, from minor annoyances to major diseases, that can occur within a human body when there is poor air quality:
Sinus irritation and irritation of the throat causing constant coughing, sniffling, or sneezing
Runny eyes and nose
Headaches
Dizziness
Respiratory disease
Heart disease
Cancer
Outside Air Quality
Outside air is anything outside a home or building. Outside air is impacted by some of the following natural and not-so-natural examples:
Vehicle exhaust
Factory emissions
Burning tires
Burning wood or forest fires
Use and burning of fossil fuels
Excess carbon monoxide from animal farms or processing plants
Chemicals from large factories like paper plants
Pesticides from large farms or orchards
Dust
Depending on the weather and physical geographical location of an area, air quality might be further impacted negatively. For example, Los Angeles is one of the most smoggy cities in the world not only because of its growing population but also because of the recent history of wildfires in the area and its proximity to a large mountain range and the Pacific Ocean. LA is located in the valley, and being that close to a major ocean means unique wind currents, so pollutants are trapped and hover over the city constantly.
Indoor Air Quality
Inside air quality refers to the air we breathe indoors or inside a home or building. It also refers to the air inside a car, where air is pulled from the outside but goes through an internal filtering system.
It's also worth noting that the quality of outside air also affects the quality of inside air, especially in any situation where doors and windows are opened frequently. However, there are many other indoor-specific examples that affect indoor air quality:
Mold
Pet fur or dander
Cleaners
Construction or renovation
Paint
Asbestos
Tobacco smoke
Wood fireplaces
Cooking appliances
The combination of poor outside air quality on top of poor indoor air quality is a recipe for a health disaster. However, there are things humans can do to help improve their air quality.
How to Improve Air Quality
Outside air quality is a larger issue and tends to go hand-in-hand with environmental initiatives and government support/policies. While even one person can contribute to improving the health and environmental impacts of a larger city or area, affecting the outside air quality takes a lot of effort from an entire population. People can do things like wear masks to limit their exposure to outside pollutants or take medication for the effects, but they cannot put an air filter over an entire neighborhood.
Inside air quality in a home or business, on the other hand, has the potential to be drastically improved in a short amount of time.
The following is a list of potential actions a home or business owner can take to greatly increase the quality of air for their family or employees:
Cleaning regularly. A clean building means excess dust and dirt does not hang around.
Changing air filters regularly. A building's air filter is the number one defense against outside air impacting inside air, and they trap indoor issues like dust and dander as well.
Cleaning rugs, carpets, curtains, and upholstery regularly, especially if there are pets. Dander and other allergens love to seep into cloth and furniture, which can cause allergies to flare up.
Use cooking vents to pull smoke away from a stove or oven and out of the building (and clean/check/replace vents regularly due to grease build-up or if you're noticing a kitchen getting overly smoky/hazy).
Invest in additional components like an air purifier and dehumidifiers.
Keep healthy, clean, and live plants throughout a home or building as they are natural air filters (note that plants with large leaves collect dust if you're not on top of your cleaning regimens).
Do not allow smoking inside.
Constantly bathe, brush, and even shave dogs with lots of fur (or if you're looking to get a new pet, think about a hypoallergenic or short-fur option).
Our Cleaning Services
At Zeppelin Cleaning Services, we've been helping homes and businesses have high-quality air through impeccable cleaning services for over 13 years. Our skilled and professional technicians specialize in carpet cleaning, air duct cleaning, sanitizing services, upholstery cleaning, and janitorial services.
To learn more about the pricing of our cleaning services, give us a call or request a quote online!