How Long Does Bacteria Live on Surfaces?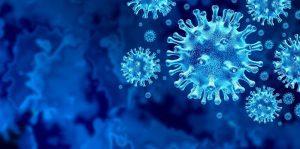 Bacteria are microscopic organisms that multiply into the millions and millions. Almost every environment supports bacteria, and these organisms are easily spread.
Bacteria live in water, in the ground, in the air, and on all sorts of surfaces. Even though some bacteria have life cycles of only a few hours, others can live on surfaces for many days and up to multiple weeks.
Because of this, they are easily transferred from surface to person, and unfortunately, they are also easily digested.
Bad Bacteria
While some bacteria out there are good, other types are not, and these are the ones we need to look out for. If a person comes in contact with a surface with bad bacteria on it or consumes that bad bacteria, it can have a negative effect on the body. Many types of bad bacteria cause illnesses resulting in fever, headaches, and stomach issues like nausea, vomiting, or diarrhea.
Examples of these bad bacteria that can cause some serious health issues include the following:
Salmonella, which causes stomach issues
E. coli, which also causes stomach issues
Streptococcus, which causes strep throat
Staphylococcus aureus (aka staph), which causes staph infections
In many cases, these issues can be resolved with over-the-counter medication or prescriptions. However, some issues are severe and can take months to recover from, cause hospitalization, and even result in death in extreme situations.
People can protect themselves from harmful bacteria by practicing good personal hygiene and also by disinfecting surfaces in their home or business. Special attention should be given to surfaces in high-touch areas or in areas with food.
How Long Can Bacteria Survive?
So how long do they live on surfaces? In general, they can persist as long as there is enough moisture or water to sustain them. So however long it takes for a surface to completely dry is the answer to the question.
Keep in mind that porous surfaces in humid environments can maintain moisture for months. That means the bacteria can survive in those pores in the surface for months. This applies to every bad bacteria listed above.
Hard vs. Soft Surfaces
Because bacteria can live and multiply on surfaces for hours or even days, it's recommended to have a cleaning routine that involves addressing surface area cleanliness and sanitation throughout the day. The most common surfaces people think about in a home or business are hard surfaces, but soft surfaces should also be taken into consideration.
Examples of hard surfaces include kitchen counters, desks, wooden furniture, tables, stovetops, reception counters, handrails, sinks, toilets, computer keyboards and screens, glass, and vertical surfaces of appliances like refrigerators.
Examples of soft surfaces include fabric furniture, bedding, mattresses, curtains, towels, sponges, and clothing.
Cleaning Hard Surfaces
Cleaning hard surfaces in a home or building is easier than cleaning a soft surface for a few reasons:
Hard surfaces are easier to wipe down.
Dirt and messes are easier to see on a hard surface.
Hard surfaces tend to be smooth.
Many hard surfaces can stand up to wet cleaners, sprays, and water (but not all, so use something else for a laptop, for example).
Hard surfaces tend to dry faster.
Many hard surfaces have a protective film or solution that makes them nonporous and impervious to stains and absorption.
Ideally, hard surfaces should be cleaned with a product or solution that both cleans and disinfects. This not only gets rid of dirt and grime but also kills those bad bacteria we keep talking about.
Some popular hard surface cleaning methods include the following:
Antibacterial or antimicrobial wipes like Clorox Wipes
Good ole' soap and water with a clean sponge
Diluted bleach in water (please do research on the measurements based on the size container or bucket used)
White vinegar mixed in water (please do research on the measurements based on the size container or bucket used)
Hydrogen peroxide mixed in water (please do research on the measurements based on the size container or bucket used)
Cleaning Soft Surfaces
Soft surfaces are a little more difficult to clean and might need a different approach, but they still need to be addressed.
Some popular soft surface cleaning and sanitizing approaches include:
Using specific cleaning and disinfecting products that are safe for soft items like couches, curtains, and carpets (but make sure to read the label just in case)
Running high-heat steamers over items like mattresses, curtains, or bedspreads
For smaller items, washing and then using the high-heat dryer setting does the trick for items like towels, bathmats, and sheets
Sanitizing with a UV light or UV Wand (note this does not clean a surface, but it kills bacteria)
Viruses and Fungi
In this article, we've spent a lot of time discussing bacteria, but many of the points in the sections above are also relevant to viruses and fungi. Bacteria, viruses, and fungi are all included in the larger category of germs. Having good personal hygiene practices like washing and sanitizing hands, along with consistent and thorough cleaning of hard and soft surfaces prevents bad viruses and fungi from hanging around as well.
Trust Us for Your Cleaning Needs
At Zeppelin Cleaning Services, our dedicated professionals specialize in janitorial cleaning and sanitation services that help protect people from bad bacteria. Our range of services applies to office buildings, medical facilities, industrial buildings, and educational facilities.
To request a janitorial quote or see pricing options, please contact us for more information.