How Often Should Commercial Carpets Be Cleaned?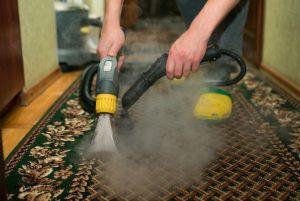 When you own or manage a commercial space, most of your attention is going to be on business operations. There are often logistical concerns that don't make the top of your priority list. Unfortunately, this can sometimes lead to neglect that ultimately costs you money.
One such concern is with commercial carpets. If you take care of them and clean them regularly, they can last for decades. But if they are neglected, they will wear and stain quickly, and you will spend too much money replacing them. So how often should commercial carpets be cleaned? It mostly comes down to the type of cleaning. There are three things your carpet needs, and each should be done on its own schedule.
Vacuuming
Vacuuming is the most important cleaning action when it comes to maintaining commercial carpets. When you fall behind on vacuuming, the carpet will pick up a lot of particles. As people walk on those particles, they are mashed into the carpet, and this can damage the fibers and shorten the carpet's lifespan.
Additionally, walking on dirty carpets grinds dirt and dust into the fibers, which makes the carpet substantially dirtier and harder to clean.
The best maintenance practice for commercial carpets is to vacuum them at the end of every day they are in use. If that isn't practical for any reason, vacuuming five times a week (assuming the carpets are in use every single day) will still do a lot of good.
Spot Cleaning
Spot cleaning, as the name suggests, is what you do when a new spot mars your commercial carpet. When something that stains is dropped or spilled on the carpet, spot cleaning will immediately treat the carpet in an effort to prevent staining.
Considering how it works, it is no surprise that spot cleaning should be done as soon as possible whenever the need arises. It really comes down to how frequently stains and spills occur on the carpet. In a restaurant or cafeteria setting, spot cleaning could be a daily occurrence. In someplace like a church office, spot cleaning might never be necessary.
When spot cleaning is needed, use a carpet cleaning solution and blot the stain as effectively as possible. Usually this is enough, but when it isn't, professional carpet cleaners will have the necessary tools to remove the stain.
Professional Cleaning
Professional cleaning is when a crew comes in with a heavy carpet cleaning machine and specialized detergents and skills. You have likely seen professional carpet cleaners when people move out of an apartment. This service provides powerful cleaning that is good for the carpet fibers on many levels.
In the carpet cleaning industry, professional cleaning is often referred to as preventative cleaning, and this is an important distinction. We often think of commercial carpet cleaning as what you do when you need to remove stains or dirt that has built up over time. Unfortunately, a lot of people subscribe to this notion, and they put off professional cleaning for too long.
In practice, commercial cleaning works best when it prevents dirt buildup. Instead of just cleaning the carpets when it's time to move out of a space, regular cleanings will maintain their health and increase their longevity. As long as you are getting professional cleanings, you don't have to do them too often. But as this is a monetary investment, and to maximize your returns, you want to schedule preventative cleaning more according to the foot traffic the carpet typically sees.
Heavy Traffic
Heavy foot traffic — for a commercial carpet — is abnormal. You would see heavy traffic in major airports, the main lobby of a large downtown office building, or a densely populated school. With that level of foot traffic in mind, heavy-use carpets are best cleaned one or two times a month. This frequency cleanses the carpet and prevents dirt buildup from becoming unmanageable.
Moderate Traffic
Moderate traffic is far more common for commercial carpets. This level of foot traffic is what you would see on the main floor of a medium-sized business. Most retailers (that aren't Walmart) see moderate foot traffic. When you fall into this category, carpet cleaning does not need to be so frequent. In most cases, two cleanings a year is sufficient, but if you're on the busy side of moderate, quarterly cleanings are a better option. If you're not sure where your foot traffic falls on this scale, you can always ask your carpet cleaners.
Light Traffic
Light traffic is the most common for the average business, even for commercial carpets. Many retail spaces see light enough foot traffic to fall into this category. Carpeted areas that are not accessible to customers or large numbers of employees are typically classified as light traffic. Conference rooms, single-occupancy offices, and rooms above the ground floor are all usually light traffic areas.
With so little foot traffic, preventative cleaning does not need to be frequent. One to two sessions a year is plenty for these carpets. When you're ready to get onto a good preventative cleaning schedule, you need someone who can do the work. Zeppelin Cleaning Services is here for that. Contact us today!