How to Get Dog Hair Out of Carpets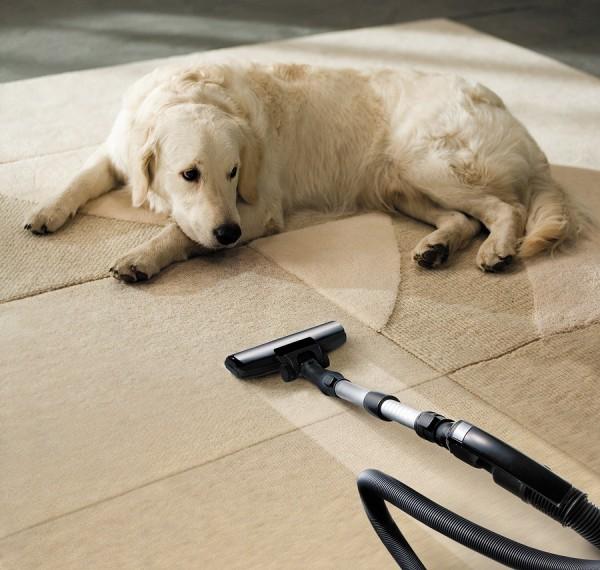 Got a dog breed that sheds like crazy? Got carpeted floors or rugs in your house? If so, you've likely struggled to keep your carpets and rugs clean and hair-free. But getting lots of dog hair out of carpet fibers doesn't have to be difficult — at least not when you have a few of our handy cleaning tricks up your sleeve!
Here are five simple and quick ways to get dog hair out of your carpets.
1. Invest in a Pet Hair Vacuum
If your pets are particularly prone to shedding, having a vacuum that's designed to suck up pet hair more effectively is basically a must. Unlike standard vacuums, pet vacuums feature bristle covers or additional nonbristled beater brushes. This feature is designed to prevent hair from collecting in the beater brush rather than moving through the vacuum and into the debris canister. It also cuts down on the amount of routine cleaning the beater brush will inevitably require.
Pet vacuums usually also feature canisters rather than bags for debris, which allows them to retain a higher level of suction even when the canister starts to get full. Many models also have special filtration devices designed to help clean the air of dander as you vacuum.
2. Use a Dog Brush
If you need to clean up hair from a relatively small area and don't own a high-suction vacuum, try using your furry friend's brush for the job. Ideally, you'll want to use a stiff-bristled brush (the type with metal bristles or pins works best), which pulls hair from carpet fibers more effectively than its soft-bristled counterpart.
To clean dog hair from your carpet or rug, simply pick a central point toward which you'll brush any loose hair. Work in small sections, gently brushing your carpet's fibers, making sure to frequently remove hair from the brush's bristles. While this trick can work quite well, it can be very time-consuming, so if you have a large area to clean up, it's probably not your best option.
3. Use a Carpet Cleaner
If your furry friend has really done a number on your carpets or rugs, and you're dealing with both hair and dirt, it's time to rent a carpet cleaner and give those fibers a deep cleaning. Or if you know you'll want to clean your carpets fairly frequently, it may be in your best interest to invest in one of these machines. That way, you can do the job as often as you wish.
Heavy-duty carpet cleaning devices not only lift dirt and grime from your carpet's fibers but also use high-powered suction that effectively pulls dog hair from within the pile. The machine can tackle two jobs at once and, ultimately, keep your carpets cleaner and smelling much fresher than vacuuming alone.
4. Lint Roll the Fibers
If you have a particularly hairy animal friend, chances are you've got at least a couple of lint rollers, which you can use to get pet hair out of your carpet. All you need to do is roll the tool over the carpet fibers and remove each sticky layer as it fills with hair.
Keep in mind, however, that this trick is also meant for cleaning relatively small areas. If you need to remove hair from a large rug or an entire carpeted room, a vacuum or carpet cleaner is your best bet for getting the job done as efficiently as possible.
5. Spray Super-Hairy Areas With Liquid Fabric Softener
If you've struggled to get dog hair out of your carpet for some time and are dealing with considerable accumulation, fabric softener may be your golden ticket to cleaner floors! The softener will coat the hairs, making them less likely to stick to the carpet fibers, so your vacuum will suck them up much more readily. Here's what you'll need to do:
In an empty spray bottle, mix together fabric softener and tap water in a one-to-one ratio. Give the bottle a good shake to ensure the solution is evenly mixed.
Lightly mist your carpet with the softener-water solution. Avoid spraying too much as you don't want the fibers to be oversaturated — getting them too wet may clog your vacuum.
Allow the solution to sit on the carpet for a few minutes to dry. This shouldn't take too long if you haven't sprayed too much solution.
When your carpet is dry to the touch, vacuum over the area where you sprayed the solution. You can also brush the hair out of the fibers if you prefer.
Need Carpet Cleaning Near St. Clair Shores, MI?
If your furry friends have made your carpets a bit hairier than you'd like them to be, let our team at Zeppelin Cleaning Services help you out! We specialize in comprehensive carpet cleaning, rug cleaning, and upholstery cleaning for home and business owners throughout St. Clair Shores, Sterling Heights, Warren, Clinton Township, and Macomb Township and have proudly served the area for more than 13 years. No matter how hairy or dirty your carpets may be, we'll help bring them back to life!
To learn more about our cleaning services or get a service quote, give us a call at 313-731-6459 or request a quote online, and we'll get in touch with more information!