Air Duct and Carpet Cleaning Services in Armada, MI
Professional Residential and Commercial Cleaning Services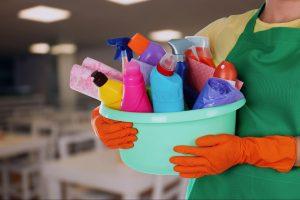 Armada, MI, is a community located in eastern Michigan, and it is about 45 miles north of Detroit. Those that live in the Armada area will enjoy the local amenities that the community provides, which include good schools, local entertainment, and many recreational lakes. For those that are in this area, investing in real estate can be a good long-term decision. If you own or manage a residential or commercial property, keeping it clean is very important. For those that are in the area, Zeppelin Cleaning Services offers various quality cleaning services.
Janitorial Services for Armada Buildings
When you are a property owner or manager in the Armada area, you will want to ensure you have hired a professional for janitorial services. Zeppelin Cleaning Services continues to be a great option when you are in need of these services. Zeppelin can offer a variety of services that can help to keep your property clean and in good condition. This can include routine cleaning, waste and trash removal, bathroom cleaning, and some maintenance and repair services. This will ensure the property is an enjoyable place to work at, live in, or visit.
Ductwork Cleanings for Improved Indoor Air Quality
Having good air quality is very important for anyone in the Armada area. Clean and quality air can help your property smell fresh and allow you to avoid various respiratory challenges. One service that you will want to do on occasion is ductwork. The ducts of any property are important as they help to push heated or cooled air throughout the property. However, over time, they will start to accumulate dust and bacteria that could affect air quality. Zeppelin can help by properly cleaning out your air ducts.
Armada Carpet Cleaning Services
Quality carpeting is a great investment to make in any property. Once you have had new carpeting installed, it can continue to last a long time if you stay current with all of your maintenance and cleaning needs. An important service to engage is professional carpet cleaning services. When you hire Zeppelin Cleaning Services, the team will be able to complete deep cleaning services that will help get out stains, make your carpets smell fresh, and keep them looking good for a long time.
If you are in need of any commercial cleaning services in the Armada area, you should call Zeppelin Cleaning Services. The team at Zeppelin Cleaning Services offers a variety of commercial cleaning services that can help ensure your property is properly cleaned and maintained.