Air Duct and Carpet Cleaning Services in Center Line, MI
Comprehensive Residential and Commercial Cleaning Services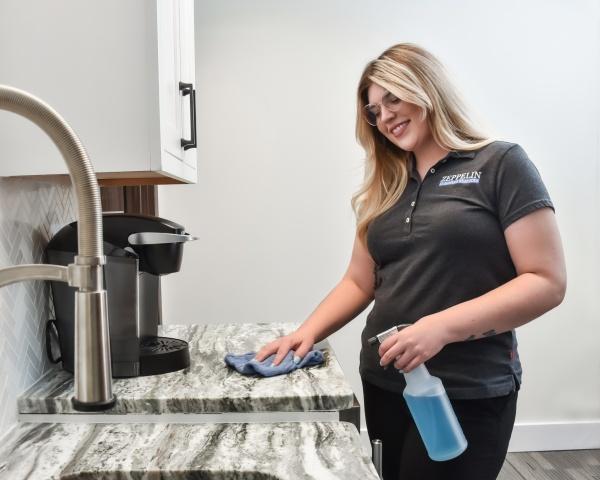 Zeppelin Cleaning Services is the best resource for professional deep cleaning. We offer residential and commercial services catered to improving cleanliness and quality of life everywhere we go.
We can perform specialized sanitation to help your workplace remain safe and compliant. We can clean a home to get it ready for moving in or out. We offer janitorial services, bathroom cleaning, duct cleaning, and more. Whatever you need in terms of cleaning, we can do it.
Janitorial Services for Center Line Buildings
Every building needs to be cleaned, and when you have enough traffic through the building, you need professional help. Our expert janitorial services ensure that your building is maintained properly and professionally.
We can provide daily carpet care, kitchen and restroom cleaning and restocking, waste removal, hard surface cleaning, and office cleaning. We also offer sanitization programs that sterilize surfaces and areas to ensure that they are safe for human occupancy and to reduce the spread of dangerous diseases.
Zeppelin Cleaning Services can customize Center Line, MI janitorial services to ensure that your building gets everything it needs to stay clean.
Ductwork Cleanings for Improved Indoor Air Quality
Indoor air quality is one of the most important things to maintain for a healthy living or working environment. Ducts collect dust and allergens, and when they aren't maintained, they can even help spread diseases.
Professional ductwork cleaning removes these problems and leaves you with pristine ducts. The improved air quality can help you breathe easier. It can lower the incidence of allergy and asthma attacks, and it leaves every room cleaner and healthier.
Our professionals can work through your entire HVAC system to ensure cleanliness and improve its longevity when you take advantage of ductwork cleaning services.
Center Line Carpet Cleaning Services
Zeppelin offers professional carpet cleaning services for residential and commercial buildings in Center Line. If you're moving out, we can cleanse the carpets to create a better experience and help you get your deposit back. If you're on your way in, we can sanitize the carpets to ensure you have a clean space.
For commercial spaces, regular carpet cleaning is an essential part of routine maintenance. We can work around your business schedule to maximize cleanliness without impacting your regular operations.
Zeppelin Cleaning Services has everything you need for Center Line, MI professional cleaning and sanitization. Contact us today to book an appointment and make your home or workplace properly clean.