Air Duct and Carpet Cleaning Services in Chesterfield Charter Township, MI
Comprehensive Residential and Commercial Cleaning Services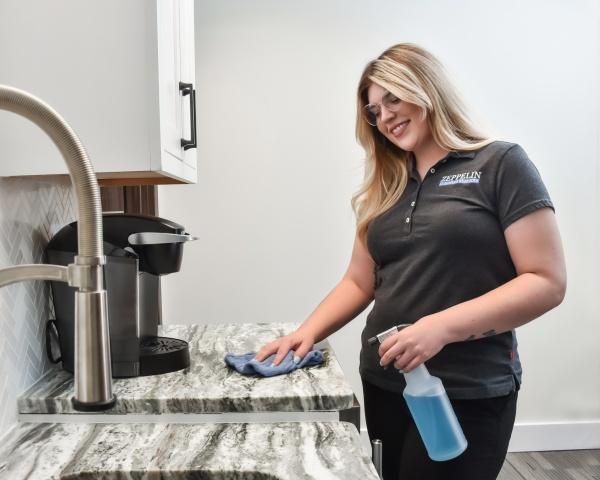 Looking for a reliable, professional cleaning team near Chesterfield Charter Township? Look no further than Zeppelin Cleaning Services! Since 2007, we've proudly provided a wide variety of residential and commercial cleaning services for home and business owners throughout Chesterfield Charter Township and beyond. When you need a cleaning team you can trust to do the job right, we're here for you too.
Janitorial Services for Chesterfield Charter Township Buildings
Do you own or manage any type of business building in Chesterfield Charter Township? If so, cleanliness is paramount for keeping employees healthy and making a positive impression on clients, customers, patients, students, or guests. That's where our team comes in.
We specialize in several janitorial services and can customize a cleaning plan and schedule to meet your building's unique needs and your operating budget. We offer:
Hard surface floor cleaning
Lobby and reception area cleaning
Restroom and kitchen cleaning (with product restocking when necessary)
Daily carpet care and deep cleaning
Window washing, vacuuming, and dusting
Sanitation services
And more!
Our team is fully insured and bonded, and all of our staff members are highly trained in commercial cleaning best practices. When you work with us, you can trust we'll do the job right the first time so you never have to worry about the cleanliness of your facility again.
We service medical facilities, educational facilities, industrial facilities, and more, so if you're looking for commercial cleaning services, give us a call to get a quote!
Ductwork Cleanings for Improved Indoor Air Quality
Got dirty air ducts in your home or commercial building? If so, those ducts are negatively affecting your indoor air quality and may even be affecting the health of anyone who occupies the space. We can help.
Our comprehensive duct cleaning services ensure complete removal of dust and debris from within your home's or building's ductwork so you can breathe easier when you're indoors. We'll thoroughly clean your building's ductwork, return vents, and registers, which will also help improve your HVAC system's performance and prolong its functional life.
Chesterfield Charter Township Carpet Cleaning Services
If your home or building has carpeted floors, routine cleaning is a must. Carpet fibers can easily trap tons of dirt, debris, and microorganisms that not only make carpets look dingy and gross but that can also negatively impact your health. Our routine cleaning services can fix that.
We offer full-service carpet cleaning and rug cleaning for both residential and commercial properties in Chesterfield Charter Township and beyond. If you've struggled to keep your carpeted floors or pricey rugs clean, we'd be happy to take the job off your hands! Interested in getting a quote for residential or commercial cleaning services in Chesterfield Charter Township? Then give us a call today at 313-731-6459 to get started! You can also request a quote online, and we'll get in touch with more information.