Air Duct and Carpet Cleaning Services in Clinton Charter Township, MI
Comprehensive Residential and Commercial Cleaning Services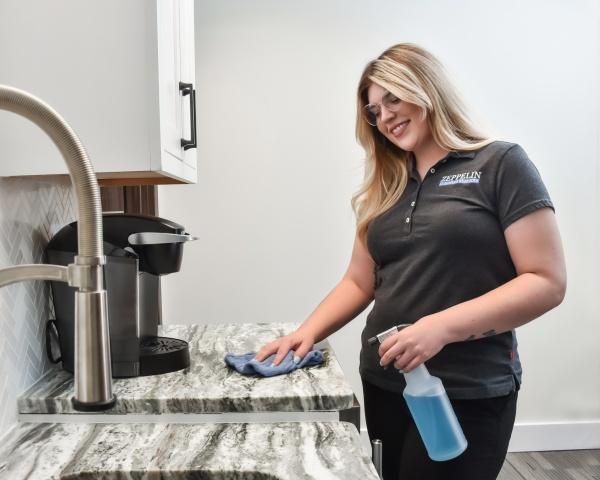 Zeppelin Cleaning Services' comprehensive residential and commercial cleaning services include:
Bathroom cleaning and restocking
Carpet vacuuming
Daily flooring surface cleaning and treatment
Kitchen cleaning and restocking
Sanitation
Window cleaning (and dusting) as needed
Other specialty services upon request
If you need cleaning for your Clinton Charter Township home or business, contact Zeppelin Cleaning Services today.
Janitorial Services for Clinton Charter Township, MI, Buildings
Janitorial services for Clinton Charter Township clients can be customized for commercial or residential clients on an ongoing or one-time arrangement for medical, school, manufacturing, office, and other environments. Many MI buildings have unique features that require special chemicals and/or cleaning processes. Our skilled technicians have the tools and knowledge to clean and sanitize all your hard and soft surfaces so that your employees and guests have a safe and healthy environment that is free from dangerous germs and odors.
Ductwork Cleanings for Improved Indoor Air Quality
Routine ductwork cleaning is a must for improving and maintaining indoor air quality in homes and businesses in Clinton Charter Township. Dust mites, pet dander, and other airborne allergens that come inside on shoes and clothing can travel through the air and air-circulating systems and settle in the ductwork. As your heating and air-conditioning system heats or cools your home, some of the "debris" is redeposited into your breathable air or settles on furniture and other surfaces, triggering asthma and allergy attacks.
Trained professional ductwork technicians use special tools to vacuum out the debris. Ductwork cleaning is recommended every three years. The process:
Leaves your home or office smelling fresher
Improves HVAC performance
Reduces allergy triggers from pet dander, pollen, and other irritants
About Clinton Charter Township
Clinton Charter Township was initially born through the efforts of David Zeisberger, a Moravian missionary who settled in the area. He was active throughout the American Revolution and into the nation's early years, according to the township website. While surviving famines and building relationships with local native Indian tribes was essential in the early years for new settlers, today the township has more than 100,000 residents. Approximately two-thirds of the people living in this Detroit suburb own their own home. The average price of a home purchase is $167,300, which is less than the national average of 244,900.
Clinton Charter Township, MI, Carpet Cleaning Services
You do not have to live with poor air quality or odors that trigger allergy attacks and make your family or customers uncomfortable. Call today to schedule a carpet and ductwork cleaning service, request a quote, or get more information about Zeppelin Cleaning Services Clinton Charter Township and Macomb County professional services.