Air Duct and Carpet Cleaning Services in Farmington Hills, MI
Comprehensive Residential and Commercial Cleaning Services
Zeppelin Cleaning Services performs intensive and extensive cleanings of both residential and commercial buildings throughout the greater Farmington Hills area. Our cleaning crew sweats the small stuff of every single clean without exception. We take pride in creating perfectly clean spaces that make it easy to live and work without worry.
Janitorial Services for Farmington Hills, MI Buildings
If you own or manage a business in the greater Farmington Hills, MI area, give our janitorial services a try and you'll be ecstatic with the quality of our cleanings. Part of what makes Zeppelin different from the competition is our willingness to customize janitorial service for each individual client. Explain what you are looking for in a cleaning, give our team a chance to earn our keep and the quality of our work will exceed your expectations.
Our motto of "people first" is evidenced in the thoroughness of our cleanings. We clean much more than cubicles. Our janitorial services include bathroom, kitchen, hallway and carpet cleanings. Our aim is to surpass your expectations to the point that you recommend Zeppelin to colleagues, friends, family and others.
Ductwork Cleanings for Improved Indoor Air Quality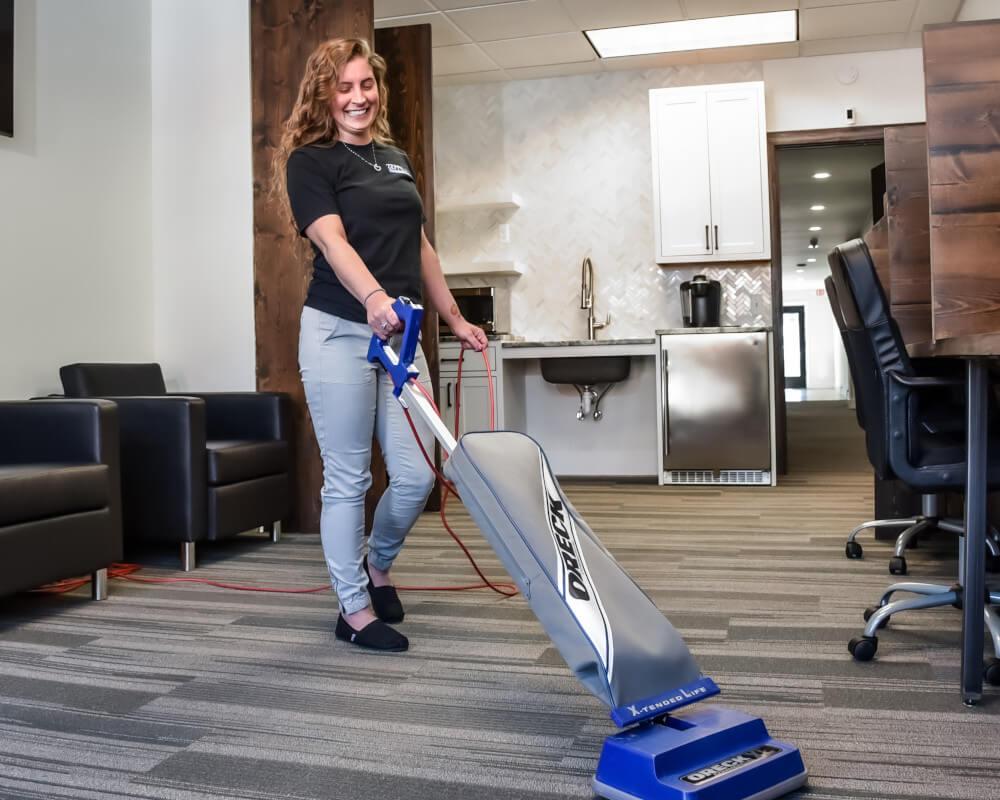 Ductwork is out of mind as it is out of sight, concealed within walls and ceilings. Though you don't notice your building's ductwork, it plays a vitally important role in your health and well-being. You and everyone in your building deserves clean air. Zeppelin provides exactly that with comprehensive ductwork cleanings. We clean essential ductwork necessary for heating and air conditioning throughout the entirety of buildings of all sizes and types.
The end result is a clean passageway for air to move without running the risk of transmitting dust, allergens, dirt and other gunk into your lungs. Our specialized air duct cleaning equipment and strategic approach to eliminating all the diminutive threats in these unseen spaces really does make a meaningful difference in air quality, health and wellness.
Farmington Hills, MI Carpet Cleaning Services
Though you might not look at your carpet when walking, its cleanliness and aesthetics are important, especially when guests are onsite, be it colleagues, potential business partners, acquaintances, friends, family or others. Furthermore, carpets laden with allergens, dirt, dust and other nasty particles are a threat to everyone who traverses the space.
Such small particles will be dislodged with foot traffic, eventually becoming airborne threats to respiratory systems. Our carpet cleaning service in Farmington Hills directly addresses those tiny yet very real harmful particles within your building's carpets. Even if your carpets look perfectly clean, you should be aware that bacteria, viruses, allergens, dust and other gunk is embedded within carpet fibers, meaning everyone in the building is subjected to harm. Be proactive by tapping into the expertise of our Farmington Hills carpet cleaning experts and we will perform a comprehensive clean of your carpets.
Schedule Your Cleaning Today
Zeppelin's elite cleaning crew is a call away. We clean Farmington Hills businesses, homes and other spaces. Contact us today at 313-731-6459 to learn more about our Farmington Hills cleaning service.