Air Duct and Carpet Cleaning Services in Fraser, MI
Comprehensive Residential and Commercial Cleaning Services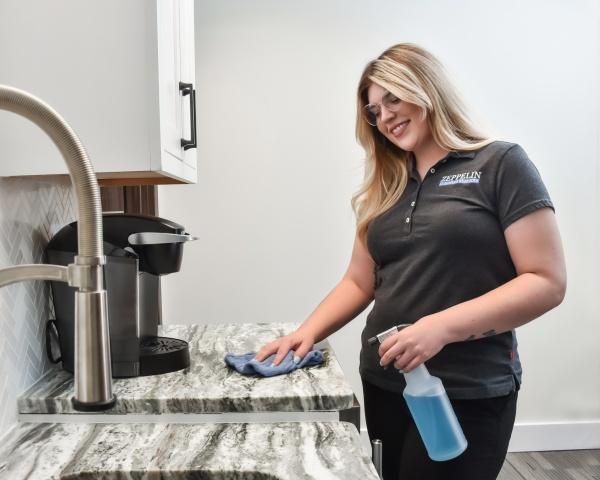 Professional cleaning is important everywhere and you need access to quality professionals. Zeppelin Cleaning Services is here to provide professional cleaning throughout Fraser, MI.
Our residential cleaning services can manage everything from your floors to the vents above your head. We can scrub every square inch of your home, or we can provide targeted cleaning that improves your quality of life without inhibiting your daily routines.
Our commercial services are just as vast and adaptable. From janitorial services to specialized sanitization, we can help your workplace maintain a healthy, clean, and compliant state that is better for employees and customers alike.
Janitorial Services in Fraser
If you rent an office space in Fraser, Zeppelin can help you maintain your business. Our janitorial services are designed to provide everything you need for professional cleanliness without needing to hire an onsite staff.
We clean and stock bathrooms, scrub carpets, clean windows, handle waste, and so much more. The full range of work needed to properly clean a professional space is all covered by Zeppelin janitors.
Ductwork Cleanings for Improved Indoor Air Quality
If you care at all about indoor air quality, you will want to consider ductwork cleaning. Our professional service scrubs your HVAC system to remove allergens and contaminants. The end result is that you can breathe easier, and the general quality of life improves.
We can also remove persistent odors from your HVAC system to make everything smell and feel better. Whether for your home or business, our Fraser ductwork cleaning service can make a big difference.
Fraser Carpet Cleaning Services
If you have carpet in your home or building in Fraser, then you can benefit from access to professional carpet cleaning. We can schedule regular maintenance cleanings, or we can do ad hoc deep cleans. Whatever you need, we're happy to provide it.
Our carpet cleaning service provides powerful cleaning that can remove blemishes, sanitize carpets, and restore carpeting to a better condition. We can also clean upholstery while we're at it.
If your home or business needs cleaning services in Fraser, contact Zeppelin Cleaning Services today. We'll discuss our range of options and schedule your appointment. Everything can be cleaned; you just need the right tools and expertise.