Air Duct and Carpet Cleaning Services in Mount Clemens, MI
Comprehensive Residential and Commercial Cleaning Services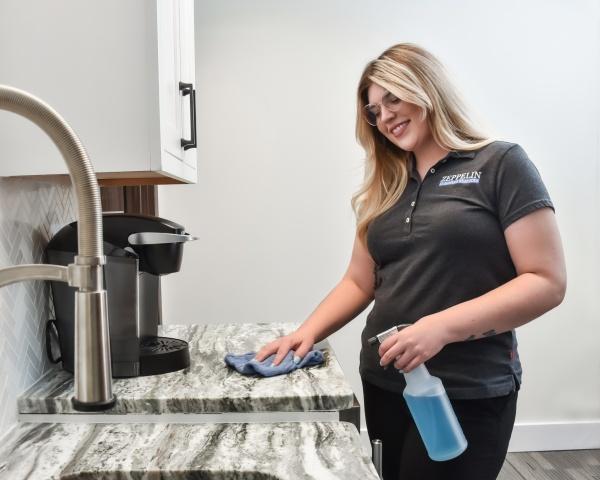 Established in 2008, Zeppelin Cleaning Services has always focused on value and quality. We have developed a system for maintaining homes, carpet, office spaces, and commercial buildings. Over time, we have grown thanks to our reputation and referrals from clients. We are a family-owned local business that strives to provide unmatched customer service. Our experienced team will always be there to take care of your needs in Mount Clemens.
Janitorial Services for Mount Clemens Buildings
We provide janitorial services for offices, medical care facilities, schools, and industrial buildings in Mount Clemens. We provide many services, including daily carpet care, waste removal, kitchen and restroom cleaning and restocking, reception area and lobby cleaning, and more. We can follow your schedule and any instructions that are given to us to provide the services you require. Our team understands that every building has unique needs for janitorial services, and we can handle light services such as waste removal or all cleaning services for an entire building.
Ductwork Cleanings for Improved Indoor Air Quality
There are many benefits to air duct cleaning, including reduction of irritants, better air flow, HVAC equipment protection, smell removal, and a cleaner home or office. Having your Mount Clemens ducts cleaned can also reduce your energy bills, since your HVAC system will no longer be strained. In addition to cleaning your air ducts, we also clean dryer vents. This service is essential for both homes and businesses to prevent unneeded strain on your appliances and to prevent fires.
Mount Clemens Carpet Cleaning Services
We have a sophisticated system for carpet cleaning and can also clean rugs and upholstery. We understand how to clean carpets and still maintain their integrity. We can remove everyday dirt as well as spills and stains. We have the knowledge to identify what caused the stain and the type of fiber the stain is on. With this information, we can determine the best course of action to remove the spot. We can clean both residential and commercial carpets and can explain our methods for cleaning and protecting carpets from future stains. If you would like to learn more about the professional cleaning services we provide in Mount Clemens, or you are ready to schedule our services, contact us online or call 313-731-6459.