Air Duct and Carpet Cleaning Services in Sterling Heights, MI
Comprehensive Residential and Commercial Cleaning Services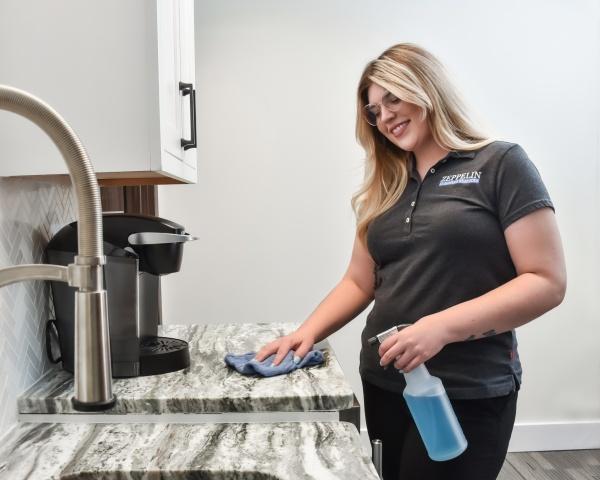 Keeping any space clean can be a challenge, whether it is a residential space or a commercial space. Fortunately, with the help of Zeppelin Cleaning Services, you can take this concern off your list altogether! We are happy to offer our Sterling Heights customers comprehensive cleaning services, covering everything from carpets to bathrooms to kitchens. We also customize our cleaning services to meet the varying needs of our residential and commercial customers. Whether you want a deep cleaning once a month or daily cleaning services, we can create a schedule that fits your expectations. Contact us today to schedule a consultation.
Janitorial Services for Sterling Heights Buildings
Buildings in Sterling Heights require a great deal of care and maintenance. One of the most daunting parts of owning and operating a building is keeping the space clean and safe. We provide janitorial services for virtually any type of building, including office buildings, medical facilities, industrial buildings, and educational facilities. Our goal is to make sure your building is cleaned according to your specifications on a schedule that works for you.
We understand that the janitorial needs of different clients may vary. To accommodate all clients, we offer a wide range of specialized and basic cleaning services, including everything from basic kitchen cleaning to medical waste removal.
Ductwork Cleanings for Improved Indoor Air Quality
You rely on the air ducts in your building or home to provide clean air circulation through your HVAC system. As this air circulates, however, it can leave behind debris, including dust, dirt, allergens, and microbes. A buildup of this debris not only decreases the efficiency of your HVAC equipment but also can worsen certain respiratory problems, such as asthma and allergies.
At Zeppelin Cleaning Services, we offer ductwork cleaning services to remove the debris from your ductwork and resolve these issues. Once your ductwork has been properly cleaned, you will enjoy better air quality, as well as less wear and tear on your HVAC system.
Sterling Heights Carpet Cleaning Services
In both residential and commercial buildings, carpets collect debris over time. Carpets may become clogged with pollen, pet dander, dust, and other particles. They may also become stained when spills cannot be cleaned up thoroughly. Fortunately, the experts at Zeppelin Cleaning Services know how to remove all debris, eliminate stains, and restore the beauty of your carpets. Our team also offers treatment services to help repel future stains to keep carpets looking their best.
Are you in need of residential or commercial cleaning services in the Sterling Heights area? If so, it is time to call Zeppelin Cleaning Services! Contact us today to learn more about our services.