What Are the Benefits of Office Janitorial Services?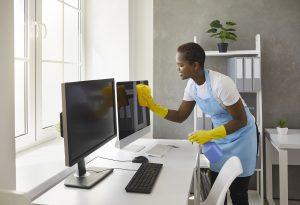 Running an office is not as easy as it sounds. While many would view it as a cushy job and an enviable position, the truth is that you have to manage a lot of things outside of your expertise. Managing the office is about so much more than keeping employees on task. You have to supply the office, handle infrastructure, and maintain the building.
That last part is particularly challenging for anyone without extensive experience. How are you even supposed to find the right maintenance people when you're out of your element? The answer is that you can hire a professional janitorial service. A good service provider can take care of everything related to cleaning and sanitation for your office. When you let them do that, you stand to gain massive benefits for your bottom line. Here are just a handful of benefits you can get from Zeppelin office janitorial services.
Better Health in the Workplace
A cleaner office is a healthier office. You can reduce the spread of infectious diseases. You can also mitigate allergies and other health-related issues that can impact productivity and employee satisfaction. A cleaner office promotes a better quality of life in general.
Adding to this point, if customers or clients frequent the office, they will also enjoy a healthier environment. Janitorial services can completely redefine the work environment in ways that benefit a business's bottom line. A cleaner office isn't just a healthier office. It is a more productive and more profitable office.
A Positive Environment
The health benefits related to cleanliness extend to mental health as well. When a place looks and smells clean, it is more inviting. That makes it a more positive place to work, and it helps contribute to better mental health for everyone in the office. Once again, this applies to regular staff as well as visiting clients or customers. The same can be said for business partners and anyone else with a reason to enter your workspace.
This can compound the productivity and worker happiness benefits you get from investing in janitorial services. It seems so simple. Keep the office clean, and everyone will be healthier and happier. Who doesn't want that for their office?
Money Management
We've talked about a few ways janitorial services can garner a positive return on investment, but in the pure monetary breakdown, a janitorial service is often a cost-effective solution to keeping your office clean.
In general, you can either choose to hire janitors internally or outsource to a service. Outsourcing is almost always more cost-efficient. This is because you are reducing your out-of-pocket overhead for the cleaning services. You get to do this because the service provider is able to specialize and serve multiple clients at once. The list of clients essentially splits the overhead.
If you hire internally, all of the janitorial overhead is yours. The spending is less efficient, and you will pay more money for the same level of service.
Freed Space
If your janitorial services are handled internally, you have to stock supplies for the work. This can include things like carpet cleaners, mops, soaps, detergents, and so much more. When you outsource, the company brings supplies with them and takes the supplies when they finish their work. The space you would be devoting to all of that storage is available to be reclaimed.
You also don't have to worry about housing potentially dangerous chemicals. Even better, a bathroom stocking service makes it so you don't even need to store paper products. If you have a better use for that space, you can get even more returns from this investment.
Longevity
This is so easy to overlook. When your office space is professionally maintained by a janitorial service, many things in the office will last longer. The most obvious example is carpets. Routine carpet cleaning can extend the life of a carpet by years. The same can be said for wood and tile flooring. Even walls, ceilings, and HVAC systems can benefit from regular cleaning.
Every year you can add to the life of any of these things leads to a ton of money saved. Replacing floors, wall textures, ceiling components, and HVAC systems are all expensive prospects. When your janitorial service delays these expenses, you save thousands of dollars in repairs and maintenance every year. It's clear that janitorial services have a lot to offer. If you want to take a closer look at how the services work and what you should expect, you need to talk to professionals. You can contact Zeppelin Cleaning Services today. Our janitorial company can take care of any cleaning needs you require. We'll review your office space and go over the various services available. We will make professional recommendations and ensure that you understand your options and what they can do for you.