Tips for Keeping a Clean House With Pets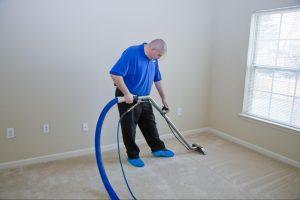 Having pets and keeping a clean house is basically an art form. And like most forms of art, it takes plenty of time, effort, and patience. But what if you don't want to spend a huge chunk of your free time cleaning up after your animal companions? You're in luck because the following preventative measures and simple cleaning hacks will help you keep your house clean even while your pets traipse all over your stuff.
Here are six tips for keeping a clean house with pets.
1. Keep Your Pets Clean
The more well groomed you keep your pets, the cleaner your house will stay. So if you don't already have a regular grooming routine in place, there's no time like the present to set one up. Regular baths and brushing won't just help control shedding. Keeping up with grooming will also help keep pet-related indoor odors at bay.
2. Use Cheap Blankets on Furniture
Can't bear to see your animal friends lying on the floor while you lounge comfortably on the sofa? We get it. Luckily, blankets can work wonders for keeping hair, odors, and stains off your couch cushions.
Simply lay out a few cheap blankets on the furniture where your pets like to lounge and tuck the edges around the cushions. Toss those blankets in the wash weekly or as needed to control hair accumulation and eau de pet in your living areas. When those blankets wear out, replacing them is a whole lot more affordable than replacing a stained and stinky sofa.
3. Get a Quality Vacuum Cleaner and Use It Often
Got pets that shed like crazy? Does your house have hard flooring? Then you probably spend plenty of time vacuuming and still struggle to control the fuzz accumulation around your house. A robot vacuum can give you some of that time back — and you can program it to keep fur balls at bay even when you're not at home. Or you can set it to run while you sleep, and you'll wake to fur-free floors.
If your house has lots of carpet or large rugs, invest in a high-quality vacuum that's powerful enough to suck ground-in fur, dander, and dirt from your carpet's fibers. And ideally, vacuum daily. Be sure to vacuum furniture that your pets lounge on too — even if you have blankets on the cushions — to help control fur accumulation.
4. Use Indoor-Outdoor Rugs
These versatile, easy-to-maintain, and affordable rugs have come a long way aesthetically in recent years. So if you've avoided them in the past because you thought they were less than stylish, it may be time to give them another look.
Why? Because they're far easier to clean than their indoor-specific counterparts. How easy? You can quickly wipe up spots with a damp cloth because these rugs' fibers don't let much soak in. And if you're dealing with larger messy areas, you can even take these rugs outside and spray them down with a garden hose.
Place rugs at each of your entrances to catch any dirt, mud, or water your pets might track indoors, and keep them in areas where your pets typically lounge. That way, if your animal friends do make a mess in any of those areas, you can easily clean it up in a few minutes flat.
5. Keep a Pet-Safe, Emergency Cleaner on Hand
If you don't already have a pet-safe cleaner on hand, grab a spray bottle and fill it halfway with white vinegar and halfway with tap water. Then add a couple of drops of dish soap (Dawn is your best bet) and shake to combine.
This pet-safe cleaning solution will work on just about any area (walls, carpet, upholstery, etc.) and any mess your pet can make. Plus, the vinegar will thoroughly neutralize odors, so your pets won't seek out those areas to "do their business" in the future.
6. Hire a Residential Cleaning Service
If your free time is in short supply, and you'd prefer to keep it to yourself, a residential cleaning service can help you keep a clean house no matter how many pets you have.
Vacuuming up hair and dander, cleaning carpets and rugs, wiping nose prints from windows, and mopping messy floors requires lots of time and effort. And if your furniture is a pet lounge zone, chances are you don't have time to keep up with regular upholstery cleaning either.
A reputable residential cleaning service can handle all of those onerous tasks for you, whether you want regular weekly service or periodic touch-ups when your house needs a deep clean. That way, you can spend your free time hanging out with your pets rather than cleaning up after them.
Looking for Home Cleaning Services Near St. Clair Shores?
If you could use a hand keeping your pet-friendly home clean, don't hesitate to get in touch with our team at Zeppelin Cleaning Services! We specialize in full-service carpet cleaning, rug cleaning, upholstery cleaning, air duct cleaning, and several other cleaning services for homeowners throughout St. Clair Shores and the surrounding areas. Since 2008, we've proudly served thousands of home and business owners throughout Macomb County, Oakland County, and Wayne County, and we'd love to serve you too!
To learn more about our residential cleaning services or get an estimate, call our office at 313-731-6459 or request a quote online, and we'll get in touch with more information.