Cleaning Services for Metro Detroit Clients
Cleaning Services We Provide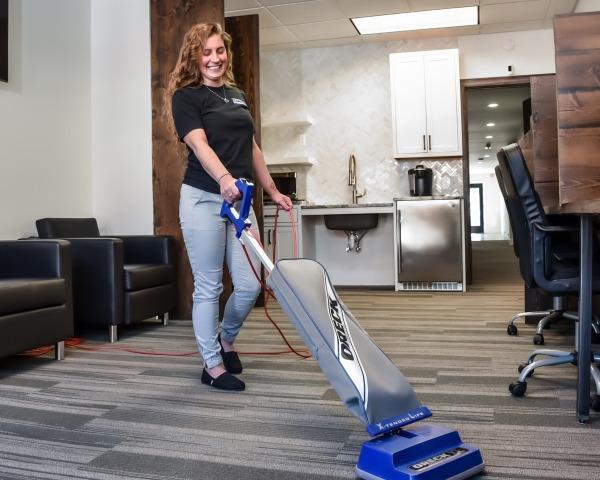 Whether you own a medical facility, an educational facility, home, or industrial building, cleaning is always part of your responsibilities. Regardless of the purpose of your space, keeping it clean and sanitary is essential. Unfortunately, all spaces get dirty over time, especially when they are used on a regular basis.
At Zeppelin Cleaning Services, we understand the importance of having a clean space, whether you are a residential or commercial client. We provide a wide variety of cleaning services to meet the needs of clients in almost any industry or environment. Our services are fully customizable, which means you can decide which services you need and design a cleaning schedule that works for you. If you need to change your services or cleaning schedule at a later date, we are happy to make modifications as needed. Contact us today to schedule cleaning services anywhere throughout the Metro Detroit area.
Janitorial Services
If you own any type of facility, you know how difficult it can be to keep a clean environment. Fortunately, our company has experience cleaning schools, universities, hospitals, office buildings, industrial buildings, and more. Whether you need basic daily carpet care and waste removal or want more intensive cleaning services, we can meet your needs. Our company cleans all types of spaces, including kitchens, bathrooms, workspaces, classrooms, exam rooms, and waiting rooms. With every client, we take the time to learn about their unique cleaning needs as well as the building's operational schedule so we can develop a plan that is effective and nondisruptive.
Facilities Management
Keeping any type of facility running smoothly can feel like a full-time job. When you have so many other responsibilities and concerns, it is easy for certain tasks to fall through the cracks. At Zeppelin Cleaning Services, we offer professional facilities management services to help take some of these responsibilities off your plate and improve your facility's overall efficiency and productivity. Our ultimate goal is to make sure your facility is safe, clean, and operating at its peak performance at all times. We can handle all your maintenance and upkeep, from installing light fixtures to making repairs to walls and ceilings. 
We offer several levels of facilities management to meet the needs of different clients. If you have continuous maintenance or repair needs, we offer an on-site option. On the other hand, if you are not in need of this high level of commitment, we provide scheduled, on-demand services as well. In addition, we offer a multisite option for clients who operate more than one facility. With this option, you have dedicated technicians who rotate throughout your facilities to provide a uniform, managed maintenance service.
Carpet Cleaning
Whether carpets are installed in residential or commercial spaces, they are prone to collecting dust and dirt. Over time, this debris can become trapped deep within the carpet's fibers. In addition, spots and stains may also occur on carpets as they are used, causing carpets to look worn and dull. Zeppelin Cleaning Services can thoroughly clean all types of carpets, removing dirt and stains to restore carpets to their former glory. We also aim to improve carpet texture, reduce signs of wear, and protect carpets from future stains by using the right treatments.
Rug Cleaning
Just like carpets, rugs are prone to collecting dirt over time. Rugs can also be more difficult to clean since they may not respond as well to over-the-counter stain removers. In addition, rugs tend to be more delicate than carpets, causing them to deteriorate when exposed to harsh chemicals or aggressive cleaning methods. The experts at Zeppelin Cleaning Services know how to clean rugs safely. We can eliminate dirt and stains so that your rugs look their best again and add value to your space.
Upholstery Cleaning
Upholstery is particularly difficult to clean. However, it is also one of the most frequently soiled parts of any home or commercial space. Upholstery may become dirty when people sit on it, touch it, or expose it to soiled items. It may also be prone to staining from spills and other incidents. The cleaning experts at Zeppelin Cleaning Services know how to remove dirt, debris, and stains from virtually any type of upholstery without damaging the fabric. With our help, you can enjoy clean upholstered chairs, couches, and other furniture for an affordable price.
Air Duct Cleaning
When your air ducts are dirty, you may notice a wide variety of problems. For example, you may notice that dust levels in the space are increasing. You may also be exposed to high levels of irritants, such as pet dander, pollen, and other allergens. In addition, dirty air ducts raise your energy bills by making it harder for your HVAC equipment to operate efficiently, and they may even spread disease by sending pathogens throughout your home or commercial space. Our company offers air duct cleaning services to remove dirt, debris, allergens, and pathogens from your ductwork.
Disinfecting Services
Pathogens such as viruses and bacteria can easily cause disease when they are present in the air or on surfaces. Removing these pathogens by using the right methods is the only way to prevent the spread of illness. Zeppelin Cleaning Services is well versed in all of the most appropriate disinfection protocols. We are also up to date on CDC guidelines. We are capable of thoroughly disinfecting any space to ensure safety. Whether you operate a medical facility or a university, you can count on our team to thoroughly disinfect and sanitize your surfaces. 
Dryer Vent Cleaning
Most dryers have a lint trap designed to collect any lint that comes off clothes during the drying process. Unfortunately, this trap cannot collect every bit of lint released. Any lint that isn't trapped can make its way to the dryer vent, leading to air obstructions and other problems. If the lint trap isn't cleaned regularly, the dryer vent will become clogged even more quickly. When the dryer vent is full of lint or other debris, the air cannot flow properly. Not only will this lead to higher utility bills, but it may also pose a risk of fire. Our company offers dryer vent cleaning services for both residential and commercial clients.
Contact Us Today to Schedule Service
If you are in need of any cleaning service, the experts at Zeppelin Cleaning Services would love to help. Please contact us today to learn more about the services we provide or to schedule a consultation so we can develop a cleaning plan based on your specific needs. We serve clients throughout Metro Detroit, and we're ready and willing to meet your cleaning needs.